Alpha Lion SuperHuman Supreme (high-stim)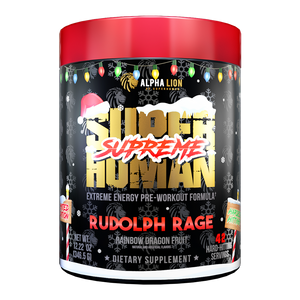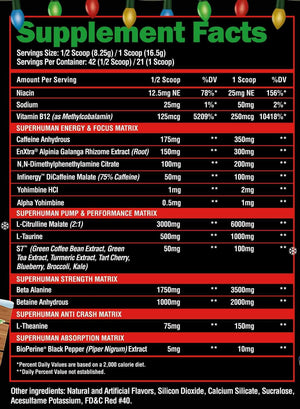 HARDCORE STIM PRE-WORKOUT
NEW & IMPROVED 2020 FORMULA!
Voted #1 HARDCORE Stim Pre-Workout of 2019!

New & Improved 2020 Formula

Increased Stim Effectiveness†

Long Lasting, Euphoric Pre Experience†

100% Intensity/0% Crash†
After hundreds of requests, 2019's #1 Hardcore Stim Pre Workout SUPERHUMAN SUPREME is back...
And with a new and improved 2020 formula that's more epic than ever! 

So what makes the NEW SUPERHUMAN SUPREME formula so incredible?

We went back to the gains lab and somehow created a longer-lasting, more euphoric pre-workout experience thanks to the following improvements:
Added 200 mg of the

Wild Juniper Berry Extract

Added 50 mg of

AstraGin® for MAXIMUM absorption
Why these two X factors? Why not just dump in more stimulants?!
Because Juniper Berry Extract increases both the effectiveness AND uptake of stimulants in the body...
While at the same time creating a more "euphoric" feeling while working out...
So you'll be feeling the effects of Supreme's powerful formula more than ever before + feeling overall happier every time you step foot in the gym!
Coupled with the addition of the absorption titan AstraGin®, we've maximized the efficiency of every ingredient in Supreme so you get the most out of EVERY scoop.
Add these to the already incredible SuperHuman ingredients present and you have an unparalleled MAX DOSED pre-workout experience: 
375 mg of dual-sourced caffeine
3500 mg of Beta-Alanine
7000 mg of L-Citrulline Malate
1000 mg of L-Taurine
2500 mg of Betaine Anhydrous
And much more!
The synergistic effect of all these + the two new "Supreme X Factors" produces never-before-felt strength, energy, focus, and pump without the nasty crash...
Plus a wild dose of euphoria that'll make you happy to demolish your workouts.
You WILL NOT find this formula anywhere else on the planet. And that's why SUPREME hits harder than Tyson in his prime (but your ears will be fine, don't worry).
With every massive scoop loaded with 17 grams of premium ingredients, there's a reason why one customer said this new Supreme is "like no other pre-workout I've ever tried...even the original Supreme!!"

All this epicness in three delicious flavors you already know and love:
HULK JUICE: Our #1 best-selling sour gummy bear flavor that gives you the strength to SMASH every workout by unleashing your own inner green beast!

CHERRY POPPER:

A sweet cherry flavor that's guaranteed to pop your max-dosed pre-workout cherry (with your consent, of course)!

SLAUGHTERMELON:

A scary delicious watermelon lemonade flavor that'll give you the power and focus to slaughter every intense workout!
CAUTION: SUPERHUMAN SUPREME is no joke. We warned you!
ALPHA LION SUPREME DIRECTIONS:
As a dietary supplement take 1 scoop in 8-12 ounces of water 15 - 30 minutes before going to the gym. This ain't your girlfriend's PRE so don't consume more than 1 scoop. Beginners should assess their tolerance by starting with 1/2 scoop then increasing to 1 scoop.