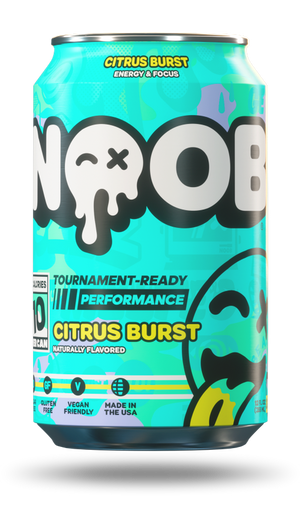 NOOB® ENERGY
Formulated to create a synergistic effect to enhance your gaming, studying, or working experience, NOOB® ENERGY provides a cognitive advantage in any scenario. This product is the perfect combo of brain-boosting nootropics and back-flip inducing energy all packed into a 12oz can.
PRODUCT FEATURES
Zero Sugar
Perfectly Carbonated
Natural Caffeine
Razor Sharp Focus
Unmatched Taste
No Gluten, No Soy, Vegan Friendly
 N-Acetyl-L-Tyrosine is an amino acid which increases a number of critical neurotransmitters in the brain as well as influencing adrenaline. N-Acetyl-L-Tyrosine supports energy, motivation, focus, mental clarity, and overall quality of mood.
Taurine is another type of amino acid that is found in many foods and it occurs naturally in the human body. It is used to optimize brain performance, improve physical endurance, boost metabolism and digestion, help reduce and fight toxins, and help support heart health. Taurine may benefit people with diabetes, potentially lowering blood sugar levels and improving various risk factors for heart disease.
Ashwagandha is a small evergreen shrub that has been used for over 3,000 years to relieve stress, increase energy levels, and improve concentration. Ashwagandha is most commonly known for its unique and natural ability to cope with stress. It can boost brain function by relaxing your mind, lower blood sugar and cortisol levels, and help fight symptoms of anxiety and depression.