Alpha Lion Gains Candy Caloriburn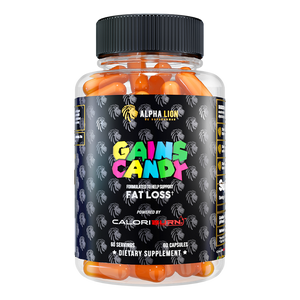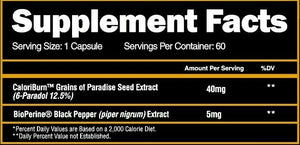 Formulated to help support fat loss
Non-stim thermogenic beast that's like stomping down on the gas pedal for your daily calorie burning potential.*
AMPLIFIES CALORIC EXPENDITURE*

INCREASES CALORIC-BURNING EFFECTS*

ACTIVATES "GOOD" METABOLIC FAT TISSUE*

ELEVATES ENERGY EXPENDITURE*

INCREASES THERMOGENESIS WITHOUT STIMULANTS*

HELPS REGULATE HEALTHY METABOLISM*
A POWERFUL SUPPLEMENT THAT KICKS YOUR DAILY CALORIE BURNING INTO MAXIMUM OVERDRIVE!*
CaloriBurn™ is the new calorie-burning king that gives you the power to experience faster fat burning...
A powerful natural extract made from 100% Aframomum Melegueta...
More commonly known as Grains of Paradise, an ancient spice highly regarded as the almighty fat loss boss...
Thanks to its unique thermogenic and metabolism-enhancing active compounds!*
CaloriBurn™ is the new apex of all calorie-burning supplements...
Thanks to its science-backed ability to preserve 100% of the active compounds found within Grains of Paradise...
Giving you the efficiency and effectiveness to maximize your fat loss results!*
CALORIBURN™: THE TRUSTED AND TESTED SOURCE OF GRAINS OF PARADISE