AXE AND SLEDGE IGNITION SWITCH ICEE (low stim, perfect beginner pre-workout)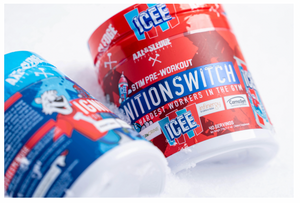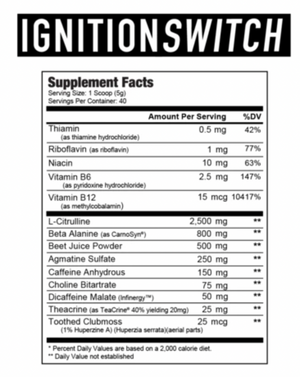 IN-STOCK AND READY TO SHIP
AXE & SLEDGE PARTNERS WITH ICEE® 
WE'RE EXCITED TO ANNOUNCE THATAXE & SLEDGE HAS TEAMED UP WITH ICEE®, THE NUMBER ONE FROZEN BEVERAGE BRAND WORLDWIDE, TO BRING THE HARDEST WORKERS IN THE GYM TWO NOSTALGIC FLAVORS THAT BRING YOU BACK TO THE GOOD OLD DAYS. BECAUSE WHAT'S BETTER THAN AN EXTRA LARGE ICEE® ON A HOT SUMMER DAY? TWO OF YOUR FAVORITE AXE & SLEDGE SUPPLEMENTS THAT NOT ONLY HELP YOU CRUSH A TRAINING SESSION, BUT ALSO REMIND YOU OF YOUR CHILDHOOD.
ICEE® BLUE RASPBERRY
ICEE® CHERRY
IGNITION SWITCH OVERVIEW
IGNITION SWITCH IS OUR STIMULANT BASED PRE-WORKOUT THAT'S FORMULATED FOR THE HARDEST WORKERS IN THE GYM. IGNITION SWITCH IS ONE OF THE FEW PRE-WORKOUTS ON THE MARKET THAT USES FOUR PATENTED INGREDIENTS, INCLUDING:
AGMAMAX™

TEACRINE® 

INFINERGY® DICAFFEINE MALATE

CARNOSYN® BETA ALANINE
WITH 150 MILLIGRAMS OF CAFFEINE ANHYDROUS, 50 MILLIGRAMS OF INFINERGY® (DICAFFEINE MALATE), 20 MILLIGRAMS OF TEACRINE®, AND FOUR B VITAMINS, IGNITION SWITCH WILL GIVE YOU SUSTAINED ENERGY LEVELS THAT LAST LONG AFTER YOUR WORKOUT IS FINISHED.
IN ADDITION TO THE ENERGY BLEND, IGNITION SWITCH CONTAINS CHOLINE BITARTRATE, HUPERZINE A, AND AGMAMAX™ TO ENHANCE YOUR FOCUS AND MIND-TO-MUSCLE CONNECTION. LASTLY, IGNITION SWITCH USES L-CITRULLINE, BEET JUICE POWDER, AND BETA-ALANINE FOR IMPROVED PERFORMANCE, BLOOD FLOW, AND MUSCULAR PUMPS. SO WHEN THE TIME COMES THAT YOU NEED TO FLIP THE SWITCH INTO WORKOUT MODE, COUNT ON IGNITION SWITCH TO DELIVER!