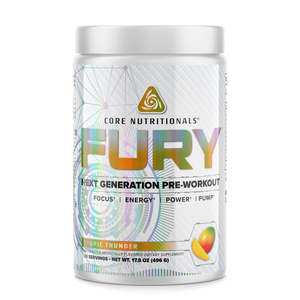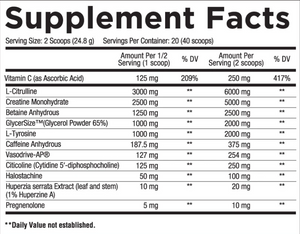 Next Generation Pre-Workout
Focus | Energy | Power | Pump
Since 2013, Core FURY™ has been the preeminent, single-solution preworkout on the market. Each iteration improves on the last, elevating and redefining the category with a more complete and more cutting-edge formula.
The newest FURY™ is so comprehensive that it demands a return to roots – demands to be called simply that, FURY™. Our newest formula delivers unprecedented synergy, producing not merely stimulation but a tunnel-vision focus, all combined with patented ingredients that increase key performance metrics. This is the next evolution. This is FURY™.
On the energy and focus side of the all-new Core Fury, there is a solid 375mg of the classic stimulant caffeine, 100mg of halostachine, 2g of tyrosine, huperzine A, and citicoline. On the label below, you'll also notice pregnenolone is in the mix, which is not a common pre-workout ingredient, but has been included to help further than focus effect.

Taking care of the pumps and performance in the long-awaited product is GlycerSize branded glycerol at 2g, a hefty 6g of pure citrulline, 254mg of VasoDrive-AP, and 2.5g of betaine. Core Nutritionals has thrown in a full dose of creatine as well at 5g per maximum serving, with the form of creatine being the tried and true creatine monohydrate.