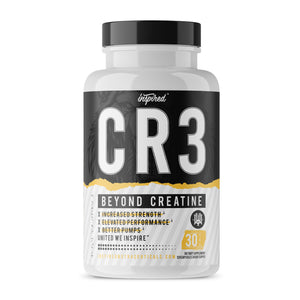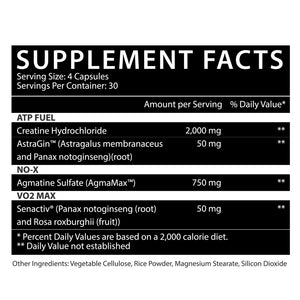 BEYOND CREATINE
Increased Strength • Enhanced Endurance • Optimal Recovery
The perfect non-stimulant pre-workout designed to increase workout performance, muscle pumps, and muscle recovery.*
30 Servings
Vegan
No Dyes
No WADA Banned Substances
CR3 Ingredients:
Creatine Hydrochloride is one of the most researched sports supplements in history, known for its performance-enhancing and neuroprotective properties. Compared to creatine monohydrate, creatine hydrochloride has great solubility and permeability, which decreases the amount of creatine needed to fill the muscle. This means more absorption, less creatine excretion, and less gastrointestinal discomfort than creatine monohydrate. We use a synthetic version, so it's vegan.
AgmaMax™

 

is a patented sulphate supplement that boosts muscle pumps.* A common natural compound, agmatine plays a role in various metabolic processes within the body, notably in the production of creatine and nitric oxide (NO). Important in the body's cardiovascular system, nitric oxide helps blood flow through the arteries by relaxing muscles and reducing the viscosity of vascular walls, contributing to increased supplies of oxygen and nutrients to the muscles.
AstraGin™

 

is a 100% natural compound composed of highly fractionated Astragalus and Panax Notoginseng. Multiple pre-clinical studies affirm this ingredient's ability to significantly improve the absorption of critical nutrients and amino acids, glucosamine absorption by 41.9%, and ATP production by 18%.
ActiGin™

 

is a 100% natural sports nutrition ingredient that has been shown to support enhanced recovery times while providing a small, but significant boost to endurance. This ingredient demonstrated in a published study available at PLOS One (impact factor 5.3) that it can significantly reduce inflammation in muscle tissue up to 4 days post exercise while enhancing exercise to exhaustion times an additional 20%. ActiGin is a proprietary, all-natural, plant-based formulation derived from highly purified Panax Notoginseng and Rose Roxburghii using a pharmaceutical grade extraction and processing technology.
CR3 directions for use:
Take one serving (4 capsules) 30-45 minutes prior to exercise. On non-training days, one serving may be split: 2 capsules in the morning and 2 capsules 6-8 hours later.