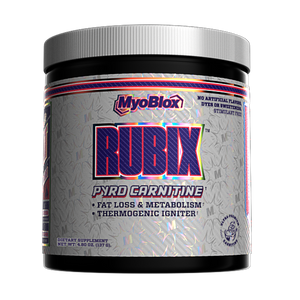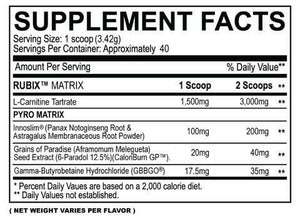 STIM-FREE FORMULA INCREASES TEMPERATURE & EXERTION
NOTE: Slight spicy flavors due to these specific formulas.
Rubix™ is a full transparent formula of scientifically validated thermogenic ingredients including Innoslim.Rubix™ works on multiple facets of fat loss to aid in improved metabolism, insulin regulation and fat utilization, without utilizing caffeine or any other stimulant.*
To create an effective fat burner, it's important the product is formulated to be able to work in multiple pathways of fat loss, improve metabolism, regulate insulin levels and fat utilization without heavily relying of caffeine. Most fat burners on the market are just loaded with high amounts of caffeine to give you a lot of energy to make you think your metabolism is elevated and hiding hunger levels with the energy. In truth, that's just a cheap way to formulate a product they trick you into thinking is effective.
Myoblox brings us Rubix. A fully transparent thermogenic formula that burns fat by utilizing multiple pathways to stimulate lipolysis. Rubix is a stimulant free formula that will boost your metabolism, suppress your appetite, and regulate insulin levels without making you feel jittery. The inclusion of Micracarn really makes this fat burner unique. Macracarn is a micro-peptide inflused carnitine that is exclusive to Rubix and truly enhances the fat burning process.
PRODUCT HIGHLIGHTS:
Boosts metabolism

Regulate insulin levels

Suppress appetite

Stimulant free
INGREDIENT BREAKDOWN:
L-Carnitine L-Tartrate –

known for its ability to convert fat into usable energy. Highly bioavailable and shown effective in a wide range of people. The ability to utilize fat for energy makes it very effective for losing body fat and increasing natural energy.

Capsimax –

Boosts thermogenesis and helps improve and maintain a healthy metabolism.

Grains of Paradise –

Activates the burning of brown adipose tissue (fat) which helps get rid of those stubborn body fat areas on your body and promotes the body to keep fat off.

GBBGO –

Precursor to L-carnitine production in the body, it increases production of carnitine to give a more enhanced effect of creating energy by burning fatty acids in the body.