Nurv Nootropic Energy Formula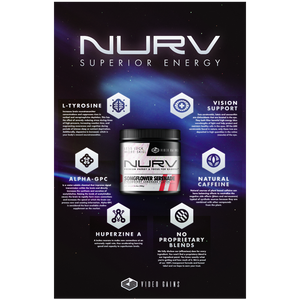 DEVELOP YOUR VISUAL ACUITY, SPATIAL AWARENESS AND ABILITY TO FOCUS TO REACH NEW LEVELS DURING YOUR FIERCEST OF BATTLES
Take advantage of our specially engineered formula, designed to
massively improve your performance*
and to help you destroy your competition.
Among NURV's ingredients you'll find two carotenoids,
Lutein
and
Zeaxanthin
— these are antioxidants that filter harmful high-energy blue wavelengths of light and help protect and maintain healthy cells in the eyes. NURV's ingredients also include
Alpha-GPC
, 
L-Tyrosine
, 
Huperzine A
,
and 
Natural Caffeine
.
Alpha-GPC is considered the best available choline supplement on the market and helps the brain rapidly form more connections, increasing the speed at which it processes new and existing information.*
L-Tyrosine

 

increases brain neurotransmitter concentrations and suppresses rises in cortisol and norepinephrine depletion; severely reducing stress during times of high-pressure and increasing reaction time.*
Huperzine A

 

incites neurons to make new connections at an extremely rapid rate, thus accelerating learning speed and capacity to superhuman levels.*
Our primary source of

 

Caffeine

 

is from green coffee bean. Natural sources of plant based caffeine can have balancing effects to neutralize the negative side effects (jitters and nervousness) typical of synthetic sources because they are combined with other compounds from the plant.*