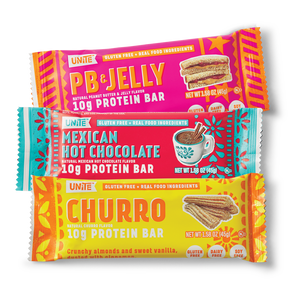 Inspired by our love for travel, adventure, and flavor from around the world. 
UNiTE Food bars are anything but basic.
We are shaking up the run-of-the-mill bar aisle – uniting globally inspired flavors with wholesome, gluten-free ingredients and superfoods for a nourishing, high-protein snack.
Our flavors are bold and bright.
From comforting peanut butter and jelly to crave-worthy churro, we represent real people and places. Whether it's a flavor you grew up with or a flavor you've fallen in love with, enjoy the delicious diversity of our bars.